Vano Noniashvili, a spokesman for President Mikheil Saakashvili, said the officers would be handed over to the OSCE's chairman in office, Karel De Gucht, who is scheduled to arrive in Tbilisi later today for talks with Saakashvili.
Noniashvili said the four would be handed over in a formal ceremony after those talks.
OSCE spokesman Alexander Nitzsche confirmed the Georgian announcement.
"The OSCE chairman in office is going to meet with the Georgian foreign minister, [Gela] Bezhuashvili, as well as the Georgian president, [Mikheil] Saakashvili," Nitzsche said. "And that is going to be followed -- we expect -- by a handover of the Russian servicemen that currently are the source of the dispute between Russia and Georgia."
Meanwhile, Russian news agencies say the Russian Transport and Communications ministries have ordered all postal, air, rail, road, and sea links with Georgia suspended.
The arrest of the four Russian officers on spying charges last week triggered the most serious crisis between the two nations in years.
Russian President Vladimir Putin has accused Georgia of "state terrorism with hostage taking." Russia also has withdrawn most of its diplomatic staff from Tbilisi and placed its two military bases in Georgia on alert.
Saakashvili has said Russia was "overreacting."
(Reuters, AP, Ekho Moskvy, ITAR-TASS)
Russia And Georgia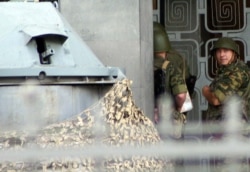 Beefed up security outside Russian military headquarters in Tbilisi on September 27 (InterPressNews)
NOT ALL WINE AND ROSES.
Moscow's relations with Tbilisi since the collapse of the Soviet Union have often been tense and strained. Among the issues that have made the relationship difficult are Moscow's alleged support for the breakaway Georgia regions of Abkhazia and South Ossetia, as well as the continued presence of Russia troops on Georgian territory. Periodically, Georgian lawmakers propose withdrawing from the Commonwealth of Independent States (CIS) altogether. RFE/RL has written extensively about the rocky relationship between these two countries.
RELATED ARTICLES
Saakashvili Seeks Meeting With Putin
Russian-Georgian Friendship Still Warm, Despite Frosty Politics
Georgia To Assess Repercussions Of Quitting CIS
Russia Impounds Georgian Mineral Water
Georgian Agriculture Minister In Moscow For Talks On Wine Ban
Russia Pledges To Complete Georgia Pullout On Schedule
ARCHIVE
RFE/RL's complete coverage of
Georgia
and
Russia
.