HRW says the council's first discussion of rights issues in Uzbekistan since bloody crackdown was moved behind closed doors after the UN body met on October 2, instead of being subjected to a public review.
In a 14-page briefing paper released in Geneva and cited on the group's website, HRW says that decision "sends the message that perpetrating a massacre and refusing to cooperate with the international community carry no real consequences."
Uzbek officials say 187 people, including many security officers, were killed when government troops entered Andijon to quell what they call an Islamic-inspired armed uprising.
Rights groups say the number of victims is much higher and that most of them were unarmed civilians gathered for a peaceful demonstration.
Uzbekistan has refused to allow the international community to investigate the Andijon events. Tashkent's foreign policy has veered toward Moscow and away from the West since the European Union and United States condemned authorities' roles in the violence.
Andijon Anniversary Conference
Andijon Anniversary Conference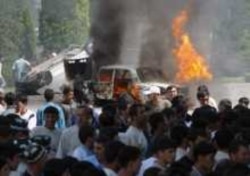 Violence in Andijon, Uzbekistan, on May 14, 2005 (epa)


TALKING ABOUT ANDIJON:
On May 9, 2006, RFE/RL, the National Endowment for Democracy, and U.S.-based human rights organizations cohosted a conference on the May 2005 events in Andijon and their aftermath in Uzbekistan and throughout the region. The first panel featured Andijon eyewitness
GALIMA BUKHARBAEVA
, National Endowment for Democracy Fellow
NOZIMA KAMALOVA
, RFE/RL Central Asia analyst
DANIEL KIMMAGE
, and others. The second panel featured presentations by U.S. Senator
JOHN MCCAIN
and U.S. Congressman
CHRISTOPHER SMITH
, who used the forum to announce they had introduced legislation calling for sanctions and other measures against the government of President Islam Karimov.
LISTEN
Listen to the Andijon conference. Part One (70 minutes):
Real Audio
Windows Media
Part Two (60 minutes):
Real Audio
Windows Media
The Uzbek government's response:
Real Audio
Windows Media


THE COMPLETE STORY: A dedicated webpage bringing together all of RFE/RL's coverage of the events in Andijon, Uzbekistan, in May 2005 and their continuing repercussions.
CHRONOLOGY
For an annotated timeline of the Andijon events and their repercussions, click here.