Addressing reporters in Kyiv, Fuel and Energy Minister Yuriy Boiko said Ukraine would instead import gas from Turkmenistan, Uzbekistan, and Kazakhstan through a Russian-Ukrainian joint venture, RosUkrEnergo.
Boiko said on October 4 that Ukraine has received firm assurances that it will receive at least 57.5 billion cubic meters of Central Asian natural gas in 2007.
Ukraine consumes an average 78 billion cubic meters of natural gas per year.
Also on October 6, Ukraine's Prime Minister Viktor Yanukovych pledged that his country will not hinder the transit through Ukraine of Russian natural gas meant for European markets.
A bitter dispute between Kyiv and Moscow over gas prices resulted in a short reduction in Russian gas supplies to Ukraine and to Europe.
(Interfax-Ukraiyna, Korrespondent.net, ITAR-TASS, RIA Novosti, press-uz.info)

Central Asia Gas Pipelines
Central Asia Gas Pipelines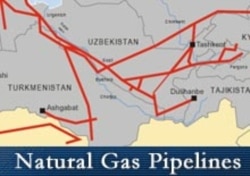 Click on the map for an enlarged image.

Russia's rising appetite for Central Asian gas is a direct result of the shifting fortunes of Gazprom, the state-run Russian company that controls lucrative exports. The company's total gas production has flatlined at around 550 billion cubic meters (bcm) a year. With major fields yielding less as they age, Gazprom has chosen to maintain its all-important gas balance by purchasing gas on the side -- from independent producers in Russia and from Russia's Central Asian neighbors -- instead of investing in the lengthy and costly development of untapped Arctic fields...(more)
See also: