The five online publications reportedly include arianastorm.com, centrasia.org, charogiruz.ru, ferghana.ru, and tajikistantimes.ru. Three of them have their offices in Moscow.
Nuriddin Qarshiboev, the president of Tajikistan's National Association of Independent Media, told RFE/RL's Tajik Service he believes the government's decision is political.
"I believe this is linked to the ongoing campaign for the presidential election," he said. "By doing this the government is trying to limit access to alternatives sources of information for Internet users. The fact is that these five websites...have not only been giving official viewpoints, but also offering alternative sources of information."
In a letter sent to Tajikistan's 12 Internet providers on October 7, the state information-regulation agency asks them to search through and close websites that "aim to undermine the government's policies in the sphere of information."
Rights groups have accused incumbent President Imomali Rakhmonov of restricting media freedom ahead of the November 6 election.
The opposition Democratic Party on October 5 accused the authorities of trying to prevent the publication of its "Adolat" newspaper. The government has denied any wrongdoing.
(with ferghana.ru and Avesta)
Tajikistan's Presidential Election
Tajikistan's Presidential Election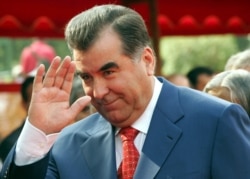 Imomali Rakhmonov has ruled Tajikistan since 1992 (epa file photo)


A THIRD TERM? On November 6, Tajikistan will hold its first presidential election since 1999. Incumbent President Imomali Rakhmonov is seeking a third term under controversial constitutional amendments adopted in 2003. The opposition has accused Rakhmonov's administration of using dirty tricks and legal pressure to split and weaken opposition parties. Most observers believe the November ballot will be less competitive than the 1999 election.
RELATED ARTICLES
Islamic Party Opts Out Of Presidential Vote
Opposition Disorganized As Presidential Election Nears
Lone Islamic Party Pursues Dual Path To Challenge Incumbent
Fractured Opposition Faces Uphill Battle Before Election
ARCHIVE
RFE/RL's
coverage of Tajikistan
. An RFE/RL web special on
Tajikistan's 2005 legislative elections
.
SUBSCRIBE
For weekly news and analysis on all five Central Asian countries by e-mail,
subscribe to "RFE/RL Central Asia Report."