EU Says Russia Must Prosecute Reporter's Killers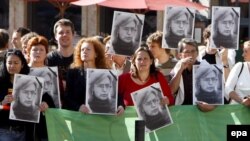 German demonstrators carried photos of Anna Politkovskaya when Russian President Vladimir Putin visited Munich on October 11 (epa) October 15, 2006 -- European Commission President Jose Manuel Barroso says Russia must find and prosecute those responsible for the murder of Russian journalist Anna Politkovskaya.
Barroso told BBC television today that he will raise the issue with President Vladimir Putin in person.
Politkovskaya, a critic of Putin and Kremlin policies in Chechnya, was shot on October 7.
Investigators say Politkovskaya's murder is linked to her reporting and her supporters say it shows Russia is failing to safeguard free speech.
(Reuters)