Pakistani Tribesmen Protest Madrasah Raid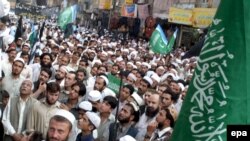 Demonstration against the attack on the madrasah on October 31 in Peshawar (epa) November 3, 2006 -- More than 5,000 armed men rallied in Pakistan's tribal region today, ahead of planned countrywide protests against the October 30 air strike on an Islamic school in which 80 people were killed.
More than 3,000 people gathered in Khar, the main town near the site of
the attack. Another 2,000 tribesmen gathered in the town of Enayat
Killi in the same area.
The government said it launched the strike
because the madrasah doubled as an Al-Qaeda training camp.
Meanwhile, six Afghan policemen were killed when their patrol came under attack in western Afghanistan. Reports said three others officers were wounded when suspected militants fired on the patrol in Adraskan district of the western Herat Province late on November 2. A local police chief was among those killed.
Local officials blamed Taliban militants for the ambush.
(AP, AFP)
RFE/RL Afghanistan Report

SUBSCRIBE For regular news and analysis on Afghanistan by e-mail,
subscribe to "RFE/RL Afghanistan Report."