Election officials had declared the election valid by noon local time, with ballots said to have been received from nearly two-thirds of Tajikistan's 3.4 million eligible voters.
Voting booths were expected to remain open until 8 p.m. local time, and initial results are not expected until November 7.
Incumbency's Advantages

Detractors complain the result is not in doubt. They claim Rakhmonov has benefited from fawning coverage in the state-run media, friendly opponents with no desire to defeat him, and craven officials running the process.

Three major opposition parties -- the Democratic Party of Tajikistan, the Social Democratic Party, and the Islamic Renaissance Party -- have spurned this election. They question the fairness of election law and the legality of the 2003 referendum that paved the way for Rakhmonov to stay in office beyond his first two terms.

That has left four upstarts to challenge the incumbent, none of whom appears to truly want the job. Those four candidates are: Communist Party candidate Ismoil Talbakov; Socialist Party candidate Abduhalim Ghafforov; Agrarian Party candidate Amir Karakulov; and Party For Economic Reform candidate Olimjon Boboev.

RFE/RL's Tajik Service spoke with an 18-year-old first-time voter today who appeared to bear out concerns that it is a one-horse race.
"I don't know all the candidates, I only know Rakhmonov."
"I don't know all the candidates, I only know Rakhmonov," said Mahina, who did not want her full name used. "I just know there's Imomali Rakhmonov and there is also a Communist [Party] deputy. My father said he'll vote for the Communist, but I don't know who I'll vote for."
Defending The Process

President Rakhmonov defended the vote against widespread criticism after he cast his own ballot today. He suggested that international groups like the OSCE set fairness targets too high.

"I think that there is no country in the world that could possibly fulfill 100-percent the requirements and standards of the OSCE," Rakhmonov said. "This is a question of choice, the right of the people, not a choice of political parties or movements. It is the people who decide, it is the right of the people. Nobody has the right to judge or assess any country."

The president's Election Day salvo looks like an attempt to gird for heavy criticism, and the record suggests that domestic rivals and international monitors will not be kind to his government.
Dubious Record

No Tajik election has ever earned a "free and fair" assessment from Western observers.

The OSCE warned in its pre-election "Interim Report No. 2," which was issued on October 30, that it saw "no signs of competitive elements" to convince it that voters in Central Asia's poorest country have been given much of a choice.

The OSCE's Election Observation Mission (EOM) has said it will issue its preliminary conclusions one day after the voting. Given its stated concerns about a lack of regulation or "uniformity," and an absence of any robust dialogue ahead of the ballot, Tajik officials might be keen to deflect serious scrutiny.
Newfound Attention

Whether such international criticism matters is another matter. It is a familiar pattern in Central Asia since the region's independence from the Soviet Union in 1991.

A disputed referendum three years ago cleared the way for Rakhmonov to seek two more terms. Tajikistan endured a bloody civil war in 1992-97 that stunted an already weak economy. But the country is attracting increasing attention as Central Asian energy resources and outside strategic interests take center stage.

Rakhmonov appears to have gambled on the premise that international outcry is likely to be muted as Russia, China, and the West vie for influence in the region. With the hurdle of sufficient turnout already behind him, the president looks set to take his third election victory in stride -- and pulling away.

Tajik law calls for a runoff in 15 days to a month if no candidate wins a majority in today's first round. But if any candidate manages a majority today, the inauguration ceremony is set for November 18.

(RFE/RL's Tajik Service contributed to this story.)
Tajikistan's Presidential Election
Tajikistan's Presidential Election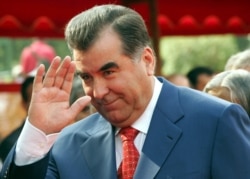 Imomali Rakhmonov has ruled Tajikistan since 1992 (epa file photo)


A THIRD TERM? On November 6, Tajikistan will hold its first presidential election since 1999. Incumbent President Imomali Rakhmonov is seeking a third term under controversial constitutional amendments adopted in 2003. The opposition has accused Rakhmonov's administration of using dirty tricks and legal pressure to split and weaken opposition parties. Most observers believe the November ballot will be less competitive than the 1999 election.
RELATED ARTICLES
Islamic Party Opts Out Of Presidential Vote
Opposition Disorganized As Presidential Election Nears
Lone Islamic Party Pursues Dual Path To Challenge Incumbent
Fractured Opposition Faces Uphill Battle Before Election
ARCHIVE
RFE/RL's
coverage of Tajikistan
. An RFE/RL web special on
Tajikistan's 2005 legislative elections
.
SUBSCRIBE
For weekly news and analysis on all five Central Asian countries by e-mail,
subscribe to "RFE/RL Central Asia Report."