The aim of the gathering is to come up with a comprehensive strategy to address self-immolation. The conference has been organized by Medica Mondiale, a German rights organization that focuses on violence against women.
Medica Mondiale's Ancil Adrian-Paul told RFE/RL the group recently conducted a survey in the three Afghan provinces of Kabul, Herat, and Wardak.
"The research that we did is actually qualitative, not quantitative," Adrian-Paul said. "But we managed to get some figures that, I think, are quite sad. We found out that self-immolation and suicide [are] prevalent not only in the provinces that we looked at, but also in 14 other provinces. For example Jalalabad, Logar, Badakhshan, Kandahar, [and others]. So [self-immolation exists] on quite [a] significant [scale] in the country."
Participants in today's conference include representatives from Iran, Tajikistan, Uzbekistan, Iraq, India, and Sri Lanka.
Women In Iran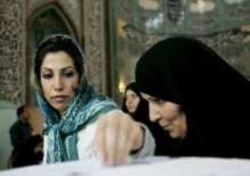 Women in Tehran (epa file photo)

CALLING FOR MORE RIGHTS: Although women played key roles in Iran's 1979 Islamic Revolution, the place of women in post-revolutionary society has been a vexing question. Iranian women have struggled to bring attention to their calls for greater rights in their country's rigid theocratic system, calls that have often clashed with the values proclaimed by conservatives in society. (more)
RELATED ARTICLES
Tehran Police Renew Campaign To Combat 'Un-Islamic' Dress
Iranian Peace Prize Laureate Shirin Ebadi On Women's Rights
Activists Concerned About Self-Immolation Of Iranian-Kurdish Women
The Younger Generation's 'Tehran Blues'
ARCHIVE
RFE/RL's coverage of Iran. RFE/RL's coverage of issues concerning women throughout our broadcast area.

SUBSCRIBE
For a regular review of civil-society developments throughout RFE/RL's broadcast region, subscribe to "RFE/RL (Un)Civil Societies."