At a meeting of foreign ministers from the Organization for Security and Cooperation in Europe (OSCE) in Brussels, U.S. Undersecretary for Political Affairs Nicholas Burns said all OSCE members must refrain from fueling instability in neighboring countries.
Foreign Minister Lavrov dismissed the ideas as simplistic.
Lavrov said the OSCE must avoid one-sided efforts to force through what he called "politicized solutions" to long-lasting disputes in former Soviet republics.
Belgian Foreign Minister Karel de Gucht, the OSCE chairman in office, said "frozen conflicts" could not be definitively resolved in Brussels.
"It would not be reasonable to give the impression that solutions to frozen conflicts, which have taken up most of our time in the presidency, can be found here in Brussels," de Gucht said. "I call on each of you, starting with the principle protagonists, to use the opportunity of this meeting to relaunch negotiations that have been interrupted."
De Gucht also said building and consolidating democratic institutions and protecting human rights must remain a central task for the OSCE.
(AP, ITAR-TASS, dpa)
Moscow And Tbilisi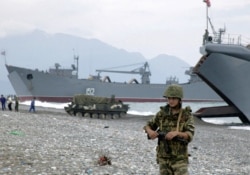 Russian military hardware being withdrawn from a Russian base in Batumi, Georgia, in August 2005 (TASS)

WHAT COMES NEXT? Although Russia is unlikely to push an aggressive military response to the current tensions with Georgia, it has a number of economic, political, and diplomatic options at its disposal. Already on October 1, Russian President Vladimir Putin summoned his inner circle to weigh Moscow's options... (more)
RELATED ARTICLES
Russia Says Georgia Sanctions Will Continue
Russia Suspends Transport, Postal Links To Georgia
EU Commissioner Urges Dialogue With Moscow
Ulterior Motives Seen Behind Escalation Of Spy Row
Georgia Turns Russians Over To OSCE
MORE: Coverage of the situation in Georgian from RFE/RL's Georgian Service and in Russian from RFE/RL's Russian Service.
ARCHIVE
RFE/RL's English-language coverage of
Georgia
and
Russia
.