Nazarbaev's EU hosts made no secret today that their interest in Kazakhstan is first and foremost fuelled by the country's vast oil and gas resources.
Jose Manuel Barroso, the president of the EU's executive European Commission, made the link clear after meeting the Kazakh president on December 4.
"Security of energy supply is very much at the top of the European Union's political agenda, and the European Union is keen to enhance relations with Kazakhstan, a partner that we give a great value."
"Security of energy supply is very much at the top of the European Union's political agenda, and the European Union is keen to enhance relations with Kazakhstan, a partner that we give a great value," Barroso said. "In fact, we were very encouraged during our meeting to listen to President Nazarbaev when he said he is ready to consider all those issues in a very pragmatic and a very economic manner."
The two sides signed an agreement on energy cooperation and a declaration on the peaceful use of nuclear energy.
Kazakhstan is the world's third-biggest producer of uranium but accounts for just 3 percent of uranium deliveries to EU utilities. The nuclear agreements signed today cover areas such as increasing nuclear safety, controlled nuclear fusion, research and development, and trade in nuclear materials.
Trans-Caspian Plans
Nazarbaev said after meeting with Barroso that Kazakhstan supports EU plans to source up to a quarter of its energy needs from the Caspian region.
He indicated Kazakhstan was receptive to the EU's bid to diversify its external energy supplies, as well as routes, saying Kazakhstan will consider all economically viable routes. Currently, Kazakh oil transits via Russia and in tankers across the Caspian Sea and on to Turkey by means of the Baku-Tbilisi-Ceyhan pipeline.
The European Union and the United States are currently funding feasibility studies for a trans-Caspian gas pipeline, which could also link Kazakhstan up with Turkey. However, Kazakhstan has appeared noncommittal on the prospects of the trans-Caspian project in recent months. On December 4, Nazarbaev said the idea was "interesting," but said too little detail was available on the project as yet.
The Kazakh president indicated his country wants to use the current rapprochement with the EU to take relations to a new level, and mooted the signing of a new "strategic partnership" accord.
The EU and Kazakhstan "are currently working together on the basis of a [Partnership and] Cooperation Agreement that was signed in 1995," Nazarbaev said. "I proposed [today] that the next document cover our strategic partnership, not only in the energy sphere."
OSCE Bid Questioned
Nazarbaev also timed his visit to coincide with a meeting of Organization for Security and Cooperation in Europe (OSCE) foreign ministers in Brussels, seeking to promote his country's bid to chair the organization in 2009.
Nazarbaev is courting the EU and its member states for support for Kazakhstan's application. Although the EU and most of its member states have indicated they support the bid, it remains controversial -- not least for the United States, which has tried to persuade Astana to opt for a later date.
Nazarbaev today rejected any postponement. "In the past seven years, Kazakhstan's economy has tripled," he said. "Its economic growth currently stands at about 9 to 10 percent [per year] and it has an open economy. All this explains why we have applied to chair [the OSCE] in 2009, and we will not withdraw our candidacy."
Apart from Kazakhstan's burgeoning economy, Nazarbaev also cited the country's record over the past 15 years as a relatively peaceful haven in a very difficult geopolitical neighborhood. Kazakhstan's "difficult" location was today also acknowledged by his EU and NATO hosts.
European Commission President Barroso today said Kazakhstan must still make "further progress" with reforms, but stopped short of identifying specific shortcomings and did not offered any outright criticism.
Observers say a meeting of OSCE foreign ministers, currently under way in Brussels on December 4-5, is likely to defer judgment on the Kazakh 2009 bid.
Friendly NATO Visit
Nazarbaev's visit to NATO headquarters in Brussels on December 4 focused primarily on the country's progress with its Individual Partnership Action Plan. Nazarbaev said Kazakhstan is interested in language and management training for its officers in a battalion-size future peacekeeping force.
NATO Secretary-General Jaap de Hoop Scheffer praised Kazakhstan as the alliance's "most active partner" in the region, reflecting the fact that most other Central Asian countries have visibly strained relations with European and trans-Atlantic organizations.
Kazakhstan And The OSCE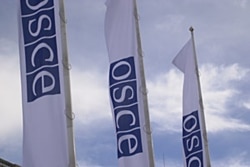 READY TO LEAD THE OSCE? Kazakhstan has been lobbying to be granted the rotating chair of the Organization for Security and Cooperation in Europe (OSCE) in 2009. In March, current OSCE head Karel De Gucht visited the country and said Kazakhstan is better prepared to head the OSCE than any other Central Asian country. But concerns about the state of democracy, the media, and ethnic relations make Kazakhstan's bid extremely controversial....(more)
RELATED ARTICLES
OSCE Says Kazakh Presidential Vote Flawed
OSCE Says Kazakh Obligations Not Met Ahead Of Vote
OSCE Offers Amendments To Kazakhstan's Draft Media Law
ARCHIVE
RFE/RL's
coverage of Kazakhstan
. The website of
RFE/RL's Kazakh Service
.