Putin Says Foreigners Welcome In Shtokman Project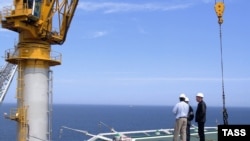 An offshore gas platform off the island of Sakhalin in the Russian Far East (ITAR-TASS) December 8, 2006 -- Russian President Vladimir Putin says foreign investors are still welcome to take part in operations at Russia's Shtokman gas field if they came up with "interesting proposals."
In October, Russia's state-controlled monopoly Gazprom said it would develop the huge gas field on its own, after initially saying it was looking for foreign partners.
In an interview posted on the Kremlin website today, Putin said Gazprom had sought, but failed, to obtain greater access to markets in the United States and Europe in exchange for enabling foreign companies to take part in the project. But he said that the subject was not "definitively closed."
Russia's Energy Minister Viktor Khristenko made similar comments today, saying Russia has not received "adequate proposals" from foreign investors.
ChevronTexaco and ConocoPhillips of the United States and France's Total were among the major international companies interested in the project.
(AFP, AP, kremlin.ru)



UPDATED CONSTANTLY: Visit RFE/RL's Russian-language website, featuring news, analysis, features, streaming audio, and more, in Russian, from RFE/RL's Russian Service.
ARCHIVE
RFE/RL's English-language
coverage of Russia
.