Poland Willing To Compromise In EU-Russia Dispute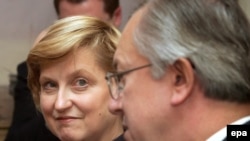 Polish Foreign Minister Anna Fotyga (left, file photo) (epa) December 14, 2006 -- Polish Foreign Minister Anna Fotyga says she hopes Poland will be able to lift its opposition to talks on a new partnership accord between the EU and Russia by the end of this year.
Poland has vetoed the start of negotiations on the accord because of a Russian import ban on some Polish food products.
Fotyga, who is due to attend an EU summit in Brussels today, said Poland is willing to reach a compromise in the name of European solidarity.
(Reuters)