Chechnya Invites Tourists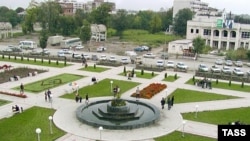 A rebuilt square in central Grozny (ITAR-TASS) December 19, 2006 -- Chechen Prime Minister Ramzan Kadyrov is inviting tourists to his war-wrecked republic.
Kadyrov says his government is looking into a variety of projects to rebuild the republic's tourist infrastructure, including building a tourist hotel in Grozny and sporting grounds and camping sites across the region.
Chechnya has been plagued by more than a decade of separatist conflict, and although major fighting has died down, rebels still regularly attack Russian forces.
(ITAR-TASS)



RFE/RL's complete coverage of Russia's war-torn Republic of Chechnya.
CHRONOLOGY
An
annotated timeline
of the Chechnya conflict.