Abramovich Quits As Regional Governor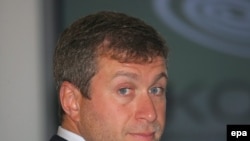 Roma Abramovich (file photo) (epa) December 20, 2006 -- Billionaire Roman Abramovich has tendered his resignation as governor of the Chukotka region in Russia's Far East.
A Kremlin spokesman said President Vladimir Putin had not yet accepted the resignation.
Abramovich was first elected governor of Chukotka in 2000 and in 2005 Putin nominated him for a second term.
The "Forbes" magazine ranks Abramovich as Russia's richest man, with an estimated wealth of $18.3 billion.
(Reuters, AP)


2006 IN REVIEW: A photo gallery of key news events of 2006 from across RFE/RL's broadcast region. ...more