Turkmen Candidate Promises Private Land Ownership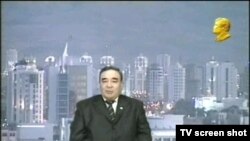 Amanyaz Atajykov appearing on Turkmen television (file photo) (TV screen shot) January 10, 2007 -- One of the presidential candidates in Turkmenistan is cited as promising voters that if he is elected he will legalize private land ownership, RFE/RL's Turkmen Service reported.
Amanyaz Atajykov, the deputy head of the Dashoguz Province administration, said he would "once and for all give private land ownership to farmers."
Under a law adopted in 2004, all land in Turkmenistan is considered the property of the government, although farmers can rent up to 10 hectares of land and after 10 years become eligible to buy that land.
The election will be held on February 11.
(with material from ITAR-TASS)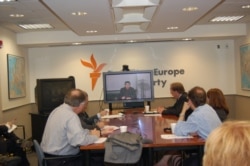 BEYOND THE HEADLINES. RFE/RL regularly hosts briefings and discussions with leading experts on our broadcast region. In 2006, some of the crucials topics were gas wars, elections in Belarus and Ukraine, Iran's nuclear program, and unrest in Central Asia....(more)
SUBSCRIBE
To receive RFE/RL briefing invitations and reports by electronic mail, send a message to
dc-response@rferl.org
with "Subscribe" in the subject line.