U.S. Secretary of State Condoleezza Rice came to the meeting in Brussels with pledges of extra U.S. help for Afghanistan. On January 25, she said the new initiative would boost U.S. aid to Afghanistan by an extra $10.6 billion -- mostly for security, but including $2 billion for reconstruction.
Separately, the Pentagon said 3,200 troops already in Afghanistan have had their tours extended for four more months.
So when Rice arrived in Brussels for talks with her fellow NATO foreign ministers, she was expected to carry a clear message -- that Washington's European partners should do more, too.
Ahead of today's meeting, NATO Secretary-General Jaap de Hoop Scheffer said this year would be key for the alliance's mission in Afghanistan. "To achieve results, the international community needs to provide both the necessary civilian and military resources, and I think you will agree with me that 2007 will be a very important year," he said.
Resurgent Taliban
Today's talks come as the alliance faces a tough challenge from a resurgent Taliban. More than 4,000 people died in violence last year, making it the bloodiest since U.S.-led forces toppled the Taliban government in 2001.
The meeting also comes amid fears that the Taliban will step up the level of violence again in the spring. U.S. Assistant Secretary of State for South and Central Asia Richard Boucher told the BBC today he expected a "difficult and dangerous and bloody spring."
NATO now leads some 33,000 troops from 37 nations in the International Security Assistance Force in Afghanistan. That's the bulk of the some 40,000 international troops in Afghanistan.
But there's been U.S. frustration at what Washington sees as a lack of commitment from some of its partners.
Today saw some promises of extra help for Afghanistan. NATO spokesman James Appathurai said allies agreed that they would step up their efforts in Afghanistan.
"[NATO] allies are going to step up their civilian, military, and economic efforts, with increased pledges for funding, with more personnel on the ground, civilian and military, to assist in training, both military and civilian training, and with more forces on the ground," Appathurai said.
However, Appathurai declined to go into specifics ahead of a meeting of NATO defense ministers in Spain on February 8-9.
Separately, the European Commission said it would propose some $780 million over the next four years. That's not including money from the bloc's individual members, which provide the bulk of Europe's aid.
(compiled from agency reports)
The Afghan Insurgency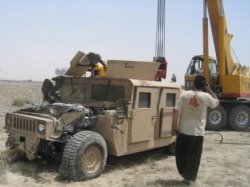 A U.S. military vehicle damaged by insurgents near Kandahar (epa)
HOMEGROWN OR IMPORTED? As attacks against Afghan and international forces continue relentlessly, RFE/RL hosted a briefing to discuss the nature of the Afghan insurgency. The discussion featured Marvin Weinbaum, professor emeritus of political science at the University of Illinois at Urbana-Champaign, and RFE/RL Afghanistan analyst Amin Tarzi.
LISTEN
Listen to the entire briefing (about 83 minutes):
Real Audio
Windows Media
ARCHIVE
RFE/RL's
coverage of Afghanistan
.
SUBSCRIBE
For weekly news and analysis on Afghanistan by e-mail,
subscribe to "RFE/RL Afghanistan Report."