Ultranationalists Rally In Moscow, St. Petersburg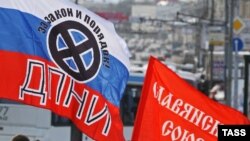 Today's demonstration in Moscow (ITAR-TASS) January 28, 2007 -- Russian ultranationalists today held a rally in Moscow that human rights activists condemned as racist.
The several hundred protesters carried anti-Semitic banners and gave Nazi salutes.
Demonstrators called on the government of President Vladimir Putin to repeal a law making incitement to racial hatred a crime and for "political prisoners" to be freed.
A smaller rally was held in St. Petersburg.
(AFP, Reuters)