Three Russian Police Killed In Daghestan Attack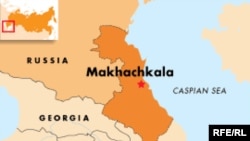 (RFE/RL) February 4, 2007 -- Attacks by unknown assailants have killed three policemen in Daghestan.
Gunmen fatally shot a police investigator in his car outside his home in Daghestan's capital, Makhachkala, on February 3.
Local authorities say two bombs then exploded as a police convoy headed to the site, killing two police officers.
The blast also damaged regional Interior Minister Adilgerey Magomedtagirov's car, but the minister was unhurt.
Daghestan has long been afflicted with violence by criminals and militants.
(AP, Interfax, dpa)