Pakistani Foreign Minister Khurshid Kasuri made the remarks in Berlin today after talks with German Foreign Minister Frank-Walter Steinmeier.
"Pakistan has offered to entirely fence the border [with Afghanistan]," Kasuri said. "In fact, we wanted to mine the border so that there would no movement across the border. But as a mark of respect to the sensitivity of our European colleagues, we have decided that we will not mine the border for the time being. We will only fence it in certain areas."
The plan is intended to stop militants crossing the mountainous 2,500-kilometer Afghanistan-Pakistan border.
Kasuri said Pakistan would like assistance from the European Union to realize the project.
EU cooperation in Afghanistan was one of the issues Kasuri discussed with Steinmeier, whose country holds the rotating Presidency of the European Union. Other topics included trade, combating the illegal drug trade, and the fight against terrorism.
(dpa, AP)
Afghanistan And Pakistan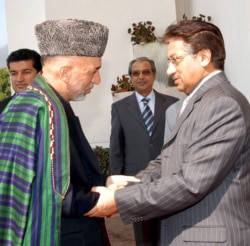 Afghan President Hamid Karzai (left) with Pakistani President Pervez Musharraf in Islamabad in October 2005 (epa)

ACROSS A DIFFICULT BORDER. The contested border between Pakistan and Afghanistan is some 2,500 kilometers long and runs through some of the most rugged, inhospitable territory on Earth. Controlling that border and preventing Taliban militants from using Pakistan as a staging ground for attacks in Afghanistan is an essential part of the U.S.-led international coalition's strategy for stabilizing Afghanistan. Officials in Kabul have been pointing their fingers at Pakistan for some time, accusing Islamabad or intelligence services of turning a blind eye to cross-border terrorism targeting the Afghan central government. Many observers remain convinced that much of the former Taliban regime's leadership -- along with leaders of Al-Qaeda -- are operating in the lawless Afghan-Pakistani border region.... (more)
RELATED ARTICLES
Pakistan-Afghanistan Conflicts Continue
Karzai, Musharraf Spar Ahead Of Bush Meeting
Musharraf Says Taliban Could Spark Pashtun 'National War'
Afghan Minister Attacks Pakistani Support For 'Terrorism'
Historical Context Of Afghan-Pakistani Relations
Afghanistan/Pakistan: 'Inseparable Twins' In Need Of Separation
ARCHIVE
RFE/RL
coverage of Afghanistan
. RFE/RL
coverage of Pakistan
.
SUBSCRIBE
For weekly news and analysis on Afghanistan by e-mail,
subscribe to "RFE/RL Afghanistan Report."