OSCE Diplomat Says Turkmenistan Looking To Open Up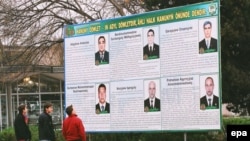 Turkmenistan has number of candidates to look at (epa) February 10, 2007 -- The president of the Parliamentary Assembly of the Organization for Security and Cooperation in Europe (OSCE) said today he believes Turkmenistan wants to reinforce contacts with the international community.
Goran Lennmarker made the comments after his meetings with Turkmen Foreign Minister Rashid Meredov and parliamentary leaders, according to AFP.

A small OSCE team is in Turkmenistan for the February 11 presidential election, but will not be acting as official observers.
(AFP)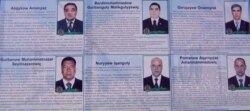 A billboard in Ashgabat depicting the candidates (OSCE)

A NEW DIRECTION. Turkmenistan holds its first presidential election with more than one name on the ballot following the death of President Saparmurat Niyazov.
RELATED ARTICLES
Explaining The Presidential Election

Sorting Out The Presidential Candidates

Could Presidential Vote Open New Chapter?

ARCHIVE
RFE/RL's coverage of
Turkmenistan
.