Kazbek Dukuzov and Musa Vakhayev were acquitted in May of murdering Klebnikov, the editor of the Russian edition of "Forbes" magazine. But in November, the Russian Supreme Court ordered a new trial.
Police say they do not know the two defendants' whereabouts. The trial has been rescheduled for March 14.
Defense lawyer Ruslan Khasanov, who represented Dukuzov in past trials, told RFE/RL ahead of the scheduled trial he hoped the court would hand down a fair verdict, and that defense witnesses would not be harassed, as they had been in past trials.
Freedom Of Speech
The American-born Klebnikov, who pursued stories about high-level corruption in Russia, was shot dead in July 2004 outside the "Forbes" editorial headquarters in Moscow.
His murder sparked concern about freedom of speech in Russia. His name is often associated with that of journalist Anna Politkovskaya, a vocal Kremlin critic who was shot dead outside her Moscow flat in October.
New York-based press-rights group the Committee to Protect Journalists on February 14 issued a statement calling on Russian court officials "to make the proceedings open to the public, to ensure the suspects are present in court, and to sequester the jury."
Last year's four-month-long trial that ended with the defendants' acquittal was held behind closed doors, and all participants, including the 12 jurors, were silenced by a gag order.
Court officials said the secrecy was justified on the grounds of classified evidence and the safety of participants.

Remembering Anna Politkovskaya
Remembering Anna Politkovskaya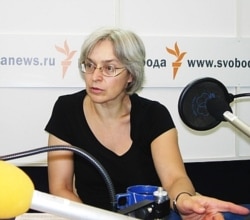 Anna Politkovskaya at RFE/RL in July 2006 (RFE/RL)
A BRAVE VOICE SILENCED. Prominent Russian journalist Anna Politkovskaya was killed on October 7 in her Moscow apartment building. An outspoken critic of the Kremlin, she was best-known for her reporting on the conflict in Chechnya. Former Soviet President Gorbachev called her slaying "a true political homicide, a vendetta."
Chechens Mourn Politkovskaya As 'Last Hope'
Politkovskaya Investigating Chechen Torture At Time Of Death
Two Journalists Die In Contract Killings A Year
SUBSCRIBE
For regular news and analysis on media issues throughout RFE/RL's broadcast area by e-mail,
subscribe to "RFE/RL Media Matters."