Eight U.S. Troops Killed In Afghan Copter Crash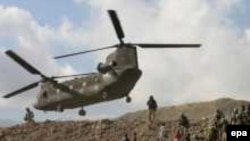 A Chinook helicopter shown flying in Afghanistan (epa) February 18, 2007 -- The U.S.-led coalition in Afghanistan says eight U.S. troops were killed and 14 injured when a coalition helicopter crashed in southeastern Afghanistan early today after reporting engine failure.
The coalition said in a statement that the CH-47 Chinook helicopter had "a sudden, unexplained loss of power and crashed."

Reuters quotes residents as saying the helicopter went down in the Shah Joy District of Zabul Province.

Taliban insurgents are active in the southern province on the border with Pakistan.

International forces have lost several helicopters in recent years but only one was believed to have been shot down.
(AFP, AP, Reuters, dpa)