Portraits of Kadyrov adorn Chechen cities and villages in what critics have called a Soviet-style personality cult.
Kadyrov rejected those allegation in an exclusive interview with RFE/RL.
"What some people are calling a personality cult is basically a response to the requests of citizens," Kadyrov said. "It is a way for them to express their gratitude for what I have done for them, as a Chechen. Allegations about a personality cult are spread by those who have done nothing in their lives for their families, their people, or their country."
Kadyrov became Chechnya's acting president on February 15 after the resignation on President Alu Alkhanov.
Just days before he resigned, Alkhanov criticized Kadyrov for creating a personality cult.
Kadyrov is reported to be widely feared in Chechnya as the leader of a private militia force that human rights groups say is involved in murder and kidnapping.
The Rise Of Ramzan Kadyrov
The Rise Of Ramzan Kadyrov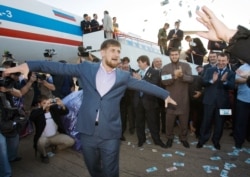 Kadyrov dances at the reopening of Grozny Airport
Ever since his father, pro-Kremlin Chechen President Akhmed-Hadji Kadyrov was killed in a May 2004 bomb blast in Grozny, Ramzan Kadyrov has risen to prominence.
In March 2006, First Deputy Prime Minister Kadyrov, who heads a personal army of 10,000 heavily armed fighters, was named prime minister. His reign as premier has been characterized by divisions in the Chechen leadership and accusations of torture. But he has also been credited with improving living standards in the republic.
In October, he turned 30, clearing the way for running for president.
CHRONOLOGY
The
fighting in Chechnya
has raged, with short breaks, since 1994. It has brought misery, death, and destruction to the North Caucasus republic and to Russia as a whole. View an
annotated timeline
of the conflict.