The chief of border police for western Afghanistan, Mohammad Dauod Ahmad, said the gun battle in Nimroz Province on March 8 began when Iranian security officers crossed about 100 meters into Afghan territory.
Nimroz Province Governor Ghulam Dastagir Azad told RFE/RL that Iran is attempting to interfere in Afghan affairs:
"The clashes happened last night between the forces of the Islamic Republic of Iran and our border police," Azad said. "One of our police officers was martyred and one was injured. A member of Iran's police also was killed and one was injured."
Nimroz borders Iran's southeastern province of Sistan and Baluchistan -- a drug-trafficking region where militants in recent weeks have carried out bomb attacks against troops from Iran's Republican Guard.
(with material from AP)
Opium In Afghanistan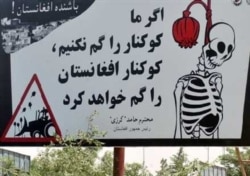 An antidrug billboard in Kabul shows a skeleton hanging from an opium bulb (AFP)
OPIUM FARMING ON THE RISE Despite a nationwide program by the Afghan government to eradicate opium-poppy fields and offer farmers alternative crops, international experts say that the 2006 opium crop will be as much as 40 percent larger than the previous year's. Afghanistan is the largest producer of opium in the world, and the source of as much as 90 percent of Europe's heroin.(more)
RELATED ARTICLES
Narcotics Supply Reduced, But Afghanistan Still Suffering
Saffron Could Help Wean Farmers Off Opium Poppies
Poppy-Eradication Drive Launched In Western Province
Insurgency Gains Ground As Poppy-Eradication Efforts Struggle
UN Drug Agency Promotes 'Alternative Development' For Curbing Poppy Cultivation
SUBSCRIBE
For weekly news and analysis on Afghanistan by e-mail,
subscribe to "RFE/RL Afghanistan Report."