Dushanbe To Host Conference Of Farsi Media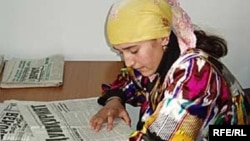 (RFE/RL) March 10, 2007 (RFE/RL) -- Tajikistan will hold a conference of Farsi-speaking media beginning March 11, RFE/RL's Tajik Service reported.
Over 60 media representatives from countries including Iran, Afghanistan, Uzbekistan, Kazakhstan, and Russia are expected to attend the three-day meeting in the capital, Dushanbe.
Adalat Mirza, one of the conference organizers, told RFE/RL that delegates would discuss the challenges the sector is facing.
"We will particularly discuss the future of Farsi media, we see today that there's been a decrease in the influence of this language and there's a lack of news coverage in Farsi," Mirza said.

She added that the goal of the conference was to form an association of Farsi-speaking journalists and to find common grounds for future cooperation