In a report to the Security Council, he said insurgents continue to mount widespread roadblocks on the key road connecting Kabul, Kandahar, and Herat and to target senior public officials and community leaders.
Ban said the September 2006 peace agreement between Pakistan and the local Taliban of North Waziristan did not prevent the tribal area from being used as a staging ground for attacks on Afghanistan.
Ban said a record number of 77 suicide attacks were recorded in the last six months, up from 53 over the previous six months, with most directed against foreign military convoys.
Many attacks appear to have been financed from abroad, he said in the report.
(AP)

The Afghan Insurgency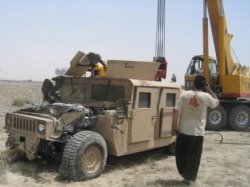 A U.S. military vehicle damaged by insurgents near Kandahar (epa)
HOMEGROWN OR IMPORTED? As attacks against Afghan and international forces continue relentlessly, RFE/RL hosted a briefing to discuss the nature of the Afghan insurgency. The discussion featured Marvin Weinbaum, professor emeritus of political science at the University of Illinois at Urbana-Champaign, and RFE/RL Afghanistan analyst Amin Tarzi.
LISTEN
Listen to the entire briefing (about 83 minutes):
Real Audio
Windows Media
ARCHIVE
RFE/RL's
coverage of Afghanistan
.
SUBSCRIBE
For weekly news and analysis on Afghanistan by e-mail,
subscribe to "RFE/RL Afghanistan Report."