AP quoted Kandahar Province police chief Esmatullah Alizai as saying the ambushes occurred in the border area between the Spin Boldak and Shorawak districts.
After the first convoy was attacked on the night of March 31, the chief told the news agency, the suspected Taliban attacked a second convoy that came to help the first.
Accused Spies Hanged
Elsewhere, a local Taliban commander in Helmand Province, Mullah Abdul Qasim, was quoted today as saying that the Taliban reportedly hanged three men accused of spying in southern Afghanistan.
He said the three men confessed to being spies for NATO and the Afghan government, and that two Taliban commanders were killed as a result of information from the three men.

NATO and Afghan troops are currently conducting a spring offensive in the province.
Suicide Bombing
In eastern Afghanistan today, a suicide car bomber killed at least three people.
Police in the city of Mihtarlam in Laghman Province said the blast occurred near an Afghan army convoy.
The three killed were reportedly children. Several other people were injured, but the numbers are not clear.
(AP, AFP, Reuters)
Tribal Trouble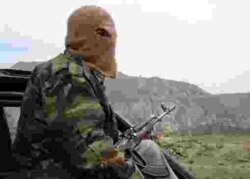 A Pakistani tribesman patrols near Wana in South Waziristan (AFP)
NO MAN'S LAND.
Fighting erupted in March involving tribesmen in Pakistan's fiercely independent western regions, where reports suggest locally backed offensives targetted Uzbek and other foreign Taliban sympathizers.
RELATED ARTICLES
Pakistan: Crackdown Could Pose Threat To Central Asia
Central Asia: Has IMU Reached The End Of The Line?
SUBSCRIBE
For regular news and analysis on Afghanistan by e-mail,
subscribe to "RFE/RL Afghanistan Report."