UN Says Land Mines Hampering Afghan Agriculture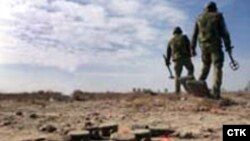 Land mines being removed near Kandahar (file photo) (CTK) UNITED NATIONS, April 4, 2007 (RFE/RL) -- A top United Nations official has said land mines continue to keep off limits large patches of fertile soil in Afghanistan.
Jean-Marie Guehenno, under secretary-general for peacekeeping operations, said on April 3 that as a result the quality of life in certain parts of the country had been considerably strained.
Guehenno made his remarks on the eve of International Day for Land Mine Awareness on April 4.
But he also praised ongoing efforts to remove Afghanistan's land mines.
"The Afghanistan [de-mining] program, I think, is a remarkable program, which is remarkable by the massive engagement of the Afghan people in that program," he said. "And the Afghan NGOs, Afghan organizations have been absolutely key in the effort to remove mines."
Guehenno said that even a single buried land mine may force authorities to place "land mine" warnings that make the land unusable.
RFE/RL Afghanistan Report

SUBSCRIBE For regular news and analysis on Afghanistan by e-mail,
subscribe to "RFE/RL Afghanistan Report."