Authorities say Ghulam Haider, of the Kundi girls' school, was killed while walking to a mosque for morning prayers.
Another headmaster was killed in a similar shooting on April 15 in the province's Gorboz district.
Afghan Education Minister Mohammad Hanif Atmar said more than 40 Afghan teachers have been killed in Taliban attacks against schools and colleges during the past year.
Most of those attacks have been in southern and southeastern Afghanistan, where NATO-led forces and Afghan government troops are battling a resurgent Taliban.
The U.S.-based nongovernmental organization Human Rights Watch says some 700 civilians have been killed in Taliban-linked violence since the start of 2006.
(AFP)
Madrasahs And Tolerance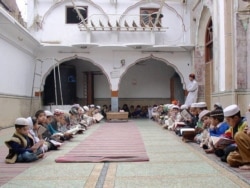 Students at a madrasah in Peshawar, Pakistan (epa file photo)

INSIDE THE MADRASAHS. The role of the traditional Islamic school, or madrasah, is being increasingly discussed. Many in the West and in the Muslim world have criticized some madrasahs for teaching intolerance and even violence...(more)
RELATED ARTICLES
Pakistan Madrasahs Reject Government Crackdown Efforts
Central Asian Madrasahs Lead Religious Teaching Revival
The Role Of Religion In Classrooms
Pakistan President Says Some Madrasahs Breed Terrorists
ARCHIVE
RFE/RL reporting on Afghanistan, Pakistan, Iraq, Iran, Tatarstan and Bashkortostan, and Central Asia.