Ukrainian Prosecutors Investigate Pressure On Court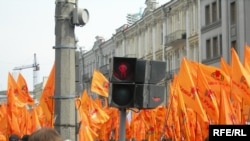 A demonstration near Ukraine's Constitutional Court today (RFE/RL) KYIV, April 19, 2007 (RFE/RL) -- The Ukrainian Prosecutor-General's Office has opened a criminal investigation into allegations that officials have illegally pressured Constitutional Court justices, RFE/RL's Ukrainian Service reported.
The allegations came as the court was in the process of deciding on the legality of President Viktor Yushchenko's April 2 decision to disband parliament. It was unclear whether prosecutors were investigating pressure from Yushchenko or from his rival, Prime Minister Viktor Yanukovych.
Speaking in the Ukrainian parliament today, acting Prosecutor-General Viktor Pshonka said his office also looked into whether laws were broken when demonstrators tried to prevent judges from entering the court on April 18.
"During our inspection, we considered all circumstances of the capture of the Constitutional Court building which was aimed at disrupting the court's normal functioning," Pshonka said. "We also considered facts of interference into the judges' activities in order to obstruct them from exercising their official duties or make them pass illegal resolutions."
Meanwhile, Volodymyr Shapoval, who is Yushchenko's liaison to the Constitutional Court, announced today that he will resign after the court makes a ruling on the dissolution of parliament. Shapoval said he will reveal his reasons after the court's ruling is announced.
(with material from agency reports)
FURTHER READING
Rethinking The Orange Revolution

Opinion polls in Ukraine have shown declining support for the Orange Revolution since before last year's legislative elections.

more

From Orange To Blue

By August 2006, it seemed as if the 18-month run of the Orange Revolution was over in Ukraine.

more