Speaking at a news conference in Bishkek today, State Secretary Adakhan Madumarov said Kyrgyzstan's political opposition is confusing the fight against criminality with "political persecution."
"It is not right to call it 'political persecution.' We need to learn to live in the framework of the law," Madumarov said. "Society now is like that. If you start fighting criminality, they call it a persecution. Those people who were named [as victims of persecution] are prominent Kyrgyz personalities. They are well aware of the constitution and the law. They are capable of using their minds, I suppose, to prove their innocence in accordance with the laws and the constitution."
The comments come days after opposition leaders Omurbek Subanaliev and Omurbek Abdyrakmanov were detained for questioning about violence during recent opposition rallies in the country.
On April 23, opposition leader and former Prime Minister Feliks Kulov called on authorities to stop taking what he called "silly actions."
In Bishkek last week, police fired tear gas at demonstrators who were throwing rocks and bottles at the government building. The protesters were demanding constitutional reforms. They also were demanding the resignation of President Kumanbek Bakiev and early elections.
Turmoil In Kyrgyzstan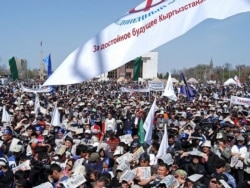 Opposition protests in Bishkek on April 11 (TASS)

TAKING TO THE STREETS. Edil Baisalov, president of the largest grassroots network in Kyrgyzstan, discussed the political turmoil in Kyrgyzstan at an RFE/RL briefing in Washington. He addressed the question of whether the unrest is a healthy democratic process or a bid to derail the country's fragile democratic transition.
LISTEN
Listen to the entire briefing (about 70 minutes):

Real Audio
Windows Media
RELATED ARTICLES
Protests Gain Steam Ahead Of Major Antigovernment Rally
Political Future Uncertain As Premier Steps Down
Revolution Anniversary Highlights Political Failures
Aksy Commemoration A Key Test For Bakiev
ARCHIVE
RFE/RL's coverage of
Kyrgyzstan
. The Kyrgyz-language website of
RFE/RL's Kyrgyz Service
.
SUBSCRIBE
For regular news and analysis on all five Central Asian countries by e-mail,
subscribe to "RFE/RL Central Asia Report."