The purchase of Yukos's production and refining units makes Rosneft the largest oil producer in Russia.
Yukos, once Russia's largest oil firm, was driven into bankruptcy after it was hit with billions of dollars in back taxes. Its chief executive, Mikhail Khodorkovsky, was jailed on fraud and tax-evasion charges.
(AP, AFP)
An OPEC For Natural Gas?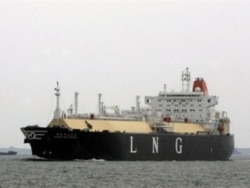 A tanker carries liquified natural gas to markets in Asia (AFP)

COMING TOGETHER? PFC energy analyst Nikos Tsafos and RFE/RL energy analyst Roman Kupchinsky discussed with an RFE/RL briefing what the likelihood is of a natural-gas-producers consortium being formed and what such an organization might look like.
LISTEN
Listen to the entire briefing (about 70 minutes):

Real Audio
Windows Media
RELATED ARTICLES
Vision Of Global Gas Cartel Gains Clarity
Putin To Take His Message To The Persian Gulf
Iranian Politicians Support Establishment Of Natural-Gas Cartel
'Gas OPEC' Moves Closer To Becoming Reality