Soviet WWII Military Losses Estimated At Nearly 9 Million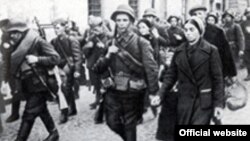 The seige of Leningrad (undated file photo) (official site) May 8, 2007 -- Russia has raised its estimate for the number of Soviet troops killed in World War II to 8.86 million.
The announced was made to the daily "Gazeta" by General Aleksandr Kirilin, director of the armed forces' commemorative center.
The paper says the figure represents an increase of 200,000 over an estimate issued by the Defense Ministry in 1993.
Estimates put at more than 25 million the total number of Soviet civilian and military war dead.
Several European states are commemorating the end of the war today, but in Russia celebrations are held on May 9.
(AFP)
World War II: 60 Years On
A microsite devoted to RFE/RL's coverage of the 60th anniversary of the end of World War II in May 2005.
See also:
60 Years Later, Nagasaki Bomb Witness Is Finally Heard
For One Hiroshima Survivor, A Journey From Hate To Reconciliation