Accounts of the incident, which occurred near that disputed border, vary widely.
Reports from the region say U.S. troops were trying to help negotiate a resolution to the clashes, which have included artillery and gun battles between Pakistani and Afghan border guards that started on May 13. Dozens have been reported killed in that fighting.
Differing Accounts
There are widely varying reports about who was involved in this latest incident.
A spokesman for Afghanistan's Defense Ministry, General Zahir Azimi, says a Pakistani military officer shot dead two U.S. soldiers and injured two others while talks were going on in Pakistan's Kurram tribal area.
Azimi also says U.S. troops returned fire and killed several Pakistani soldiers.
However, a spokesman for Pakistan's Army, Major General Waheed Arshad, says the Afghan version of events is wrong.
Arshad says militants opened fire on a convoy, killing one U.S. soldier and one Pakistani soldier. He said two U.S. and two Pakistani soldiers were wounded.
Arshad said Pakistani troops were not involved in the shooting.
The U.S. military says it has learned of an incident in the border area but does not yet have details.
NATO's International Security Assistance Force (ISAF) in Afghanistan confirms ISAF casualties but not the exact number of injured or killed.
In Washington, the administration of U.S. President George W. Bush also was trying to sort out exactly what had happened.
White House spokesman Tony Snow said, "We are aware of some of the casualty reports that are coming out. We're studying them in terms of trying to read what's going on politically within Pakistan."
Afghan Governor Said To Be Injured
A correspondent in the area for RFE/RL's Radio Free Afghanistan reports that the governor of Afghanistan's Paktiya Province and his translator also were injured in the violence.
The governor, Rahmatullah Rahmat, told Radio Free Afghanistan earlier today that 41 Afghans have been killed or wounded by gunfire and crossborder artillery barrages since May 13.
Rahmat said the fighting along the border erupted after Pakistani forces encroached into Afghan territory.
Arshad, the Pakistani Army spokesman, accused the Afghan Army of sparking the battle with "unprovoked" fire at several of its border posts.
The Afghan National Assembly and Afghan President Hamid Karzai have condemned the violence. Karzai has sent a delegation to investigate.
Today is the fourth day this month of deadly clashes between Afghan and Pakistani government troops along the border.
The incident comes two weeks after Karzai and Pakistan's president, General Pervez Musharraf, met in Ankara, Turkey, where they agreed improve their often strained relations and to increase military cooperation.
Afghanistan And Pakistan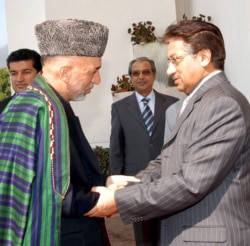 Afghan President Hamid Karzai (left) with Pakistani President Pervez Musharraf in Islamabad in October 2005 (epa)

ACROSS A DIFFICULT BORDER. The contested border between Pakistan and Afghanistan is some 2,500 kilometers long and runs through some of the most rugged, inhospitable territory on Earth. Controlling that border and preventing Taliban militants from using Pakistan as a staging ground for attacks in Afghanistan is an essential part of the U.S.-led international coalition's strategy for stabilizing Afghanistan. Officials in Kabul have been pointing their fingers at Pakistan for some time, accusing Islamabad or intelligence services of turning a blind eye to cross-border terrorism targeting the Afghan central government. Many observers remain convinced that much of the former Taliban regime's leadership -- along with leaders of Al-Qaeda -- are operating in the lawless Afghan-Pakistani border region.... (more)
RELATED ARTICLES
Pakistan-Afghanistan Conflicts Continue
Karzai, Musharraf Spar Ahead Of Bush Meeting
Musharraf Says Taliban Could Spark Pashtun 'National War'
Afghan Minister Attacks Pakistani Support For 'Terrorism'
Historical Context Of Afghan-Pakistani Relations
Afghanistan/Pakistan: 'Inseparable Twins' In Need Of Separation
ARCHIVE
RFE/RL
coverage of Afghanistan
. RFE/RL
coverage of Pakistan
.
SUBSCRIBE
For weekly news and analysis on Afghanistan by e-mail,
subscribe to "RFE/RL Afghanistan Report."