Unified Russian Church Honors Soviet-Era Martyrs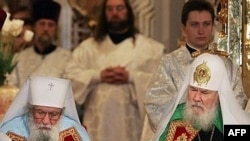 Russian Orthodox leaders signing a reunification agreement on May 17 (AFP) May 19, 2007 -- The Russian Orthodox Church has consecrated a temple at a site of mass Stalinist executions, in a symbolic act of unity after an 80-year rift between the mother church and a rival faction.
Patriarch Aleksy II, the head of the Russian Orthodox Church, and Metropolitan Lavr, the New York- based leader of the Russian Orthodox Church Abroad, attended the liturgy at the Butovo temple.
More than 100,000 people, including hundreds of Orthodox priests, are believed to have been executed at the former shooting range south of Moscow.
Aleksy II and Lavr signed a church reunification act on May 17.
(Reuters, Ekho Moskvy)

SUBSCRIBE For news and analysis on Russia by e-mail,
subscribe to "RFE/RL Russia Report."