Kyrgyz Protesters Demand Closure of U.S. Military Base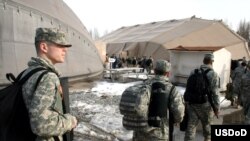 U.S. troops at the Manas Air Base (USDoD) BISHKEK, June 2, 2007 (RFE/RL) -- Some 50 leftist and pro-Russian activists rallied today in front of the U.S. Embassy in Kyrgyzstan calling for the closure of a U.S. military base at Manas airport outside the capital Bishkek, RFE/RL's Kyrgyz Service reported.
One of the organizers, the leader of one of the country's two communist parties, Klara Ajybekova, said the base was polluting the environment.
There were no incidents during the protest, which lasted about one hour.
The United States uses the base at Manas Airport to support its operations in Afghanistan.
Use of the base is expected to be one of the topics on U.S. Secretary of Defense Robert Gates' agenda when he visits Kyrgyzstan later this month.