Long lines of cars formed at gas stations last night as people attempted to fill their gas tanks ahead of the midnight imposition of the rationing plan.
Eyewitnesses say motorists threw stones at some petrol stations and shouted slogans denouncing President Mahmud Ahmadinejad.
Similar incidents have been taking place in other Iranian cities, including Ahwaz, Esfahan, Kazaj, and Tabriz.
According to unconfirmed reports, a woman was killed today during violence outside a petrol station in Tehran.
Farizburz Sorush, a Tehran-based journalist, told Radio Farda that an undisclosed number of people have been arrested by riot police.
"According to reports, there are crowds of people gathering at gas stations in Tehran and in other towns," she said. "To be exact, crowds have gathered and scuffles have taken place [at gas stations] on Ghazvin, Shariati, and other streets. This has resulted in clashes with antiriot police. Some shots were fired, and some gas stations were set on fire."
Peyman Pakmehr, a Tabriz-based journalist, says Tabriz is quiet today, and people have left gas stations. But he added that food prices, as well as taxi fares, have increased since this morning.
"The prices for meat, beans, rice, and fruit went up," Pakmehr said. "When people asked the merchants in fruit markets why, the merchants said it was because of the rise in petrol prices."
According to Ahvaz resident Mojtaba Gahistuni, some taxi drivers have started strike to express their discontent over the government's rationing plan.
"The taxi drivers' strike in Ahvaz and the rest of Khuzestan Province was one of the consequences [of the rationing plan]," Gahistuni said. "A three- to fivefold increase in taxi and bus fares was another problem for people. There were arguments between passengers and drivers."
A taxi driver from Tehran, Majid Shirzad, said the new limit on gas consumption will have a major, negative impact on the private taxi agency that employs him. "My car consumes around 25 to 30 liters of gasoline per day, but in these conditions this 400 liters for four months is not suitable," he said. "Today I did not go to work. Nobody can manage [with the small consumption allowed by] this rationed fuel."

Strict Rationing
The new rationing plan allows only 100 liters of gas per month for private cars. Taxi drivers will be allowed to buy 800 liters a month at a subsidized, lower price.
The Iranian government already heavily subsidizes the price of petrol. Iranian petrol is sold at a cost of 1,000 rials ($0.11) per liter -- about one-fifth of its real cost.
It is still unclear if Iranians will be allowed to purchase additional amounts of petrol at its real market cost of approximately 5,000 rials per liter.
The Iranian news agency ILNA reports that some members of parliament have suggested stopping the rationing plan.
Oil-Rich, Fuel-Poor
The move is the government's latest effort to curb consumption and reduce enormous state spending on gasoline imports.
Iran is the No. 2 oil exporter in the Organization of Petroleum Exporting Countries (OPEC). But despite its status as a major crude oil producer, Iran lacks refining capacity and must import about 40 percent of its gasoline.
Imports are a big burden on the state because of the heavy subsidies.
Gasoline imports cost the state $5 billion last year, double what the government had planned.
The subsidies have also encouraged waste and smuggling to neighbors where fuel is more expensive.
Iran has already raised the subsidized fuel price by 25 percent this year, and introduced "smart cards" for gasoline sales in a bid to clamp down on the black market.
The government said the new rationing would last for up to six months.
Ahmadinejad has already come under fire over his economic policies, with economists and lawmakers complaining about runaway inflation.
Iran also suffered shortages of natural gas this past winter, which led to power cuts in some areas.
(Radio Farda's Niusha Boghrati contributed to this report.)
The Iranian Economy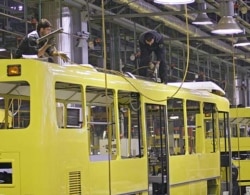 Buses being produced at a factory in Tehran (Fars)

IN NEED OF DIVERSIFICATION. Populist Iranian President Mahmud Ahmadinejad is having trouble fulfilling his promises to put the country's petrodollars on the plates of average citizens. Inflation and unemployment remain high and the economy is dominated by the energy sector.
RELATED ARTICLES
Foes Challenge President's Economic Rhetoric
Power Cuts In An Energy-Rich Land Spark Protests
Government Balks At Gasoline Rationing
Weak Economy Challenges Populist President
ARCHIVE
RFE/RL's
coverage of Iran
.
SUBSCRIBE
For weekly news and analysis on Iran by e-mail,
subscribe to "RFE/RL Iran Report."