Afghan Rebel Leader Reportedly Declares Cease-Fire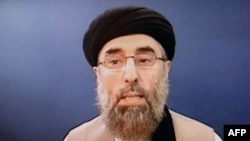 Gulbuddin Hekmatyar in a still from a DVD delivered to AFP in May (AFP) July 19, 2007 -- Gulbuddin Hekmatyar, a wanted rebel leader in Afghanistan, has reportedly declared a cease-fire in fighting against the Afghan government.
In a statement reportedly signed by Hekmatyar and aired by a private television station, the rebel leader says members of his group are refraining from violence and have "assumed political activity."
Hekmatyar has not appeared in public to confirm the statement's authenticity.
Hekmatyar served briefly as Afghan prime minister in the mid-1990s and participated in many of Afghanistan's internecine conflicts. His faction, Hizb-e Islami, helped end the Soviet occupation of Afghanistan.
Hekmatyar later became allied with the Taliban regime, but the Taliban chased him out of Kabul in 1996. In 2006, Hekmatyar appeared in a video aired on the Arabic language Al-Jazeera television station and declared he wanted his forces to fight alongside Al-Qaeda.
On July 15, the Afghan Defense Ministry announced that 30 fighters aligned with Hizb-e Islami had laid down their weapons and agreed to cooperate with the government.
(Reuters)

RFE/RL Afghanistan Report

SUBSCRIBE For regular news and analysis on Afghanistan by e-mail,
subscribe to "RFE/RL Afghanistan Report."