Major Chris Belcher, a spokesman for U.S.-led coalition forces in Afghanistan, said the air strike targeted a religious school used as a safe haven by Al-Qaeda militants.
"Had we known that there were children there, we would not have ordered the air strike." -- Major Chris Belcher, coalition spokesman
Belcher told RFE/RL's Radio Free Afghanistan that the madrasah -- in the Zarghun Shah district of Paktika Province -- had been under surveillance for a day before the air strike because the coalition wanted to ensure there were no innocent civilians there.
"We were watching the compound all day and there was no sign that there were children in that compound during the day," Belcher said. "Had we known that there were children there, we would not have ordered the air strike. This is another example of Al-Qaeda using innocent civilians to shield themselves. We work with the Islamic Republic of Afghanistan to coordinate our operations. And during the operations, we do everything we can to prevent civilian casualties."
A coalition statement says children who survived the air strike said the militants had forced the seven who were killed to stay in the targeted building for the entire day before the attack.
The statement also says U.S.-led forces "confirmed the presence of nefarious activity" before getting approval to attack the compound, which included a mosque and a religious school.
But the statement did not clarify who gave the approval for the attack.
General Zahir Azimi, a spokesman for the Afghan Defense Ministry, told RFE/RL that the government in Kabul did not approve the air strike on the compound.
"There is coordination between us. But this coordination exists only between the ground troops," Azimi said. "We don't have air forces and so there is not any coordination in this part. If this coordination is improved, then [the Afghan government] can decide which places should be bombarded and which area should not come under attack. [Unfortunately,] fighting has its own losses. If you study the history of war, you will find that despite efforts to avoid civilian casualties, such losses still can be seen everywhere in the world."
NATO Talks On Limiting Civilian Casualties
The incident comes just days after Afghan Defense Minister Abdul Rahim Wardak met in Brussels with NATO defense ministers to discuss ways to avoid civilian casualties.
NATO Secretary-General Jaap de Hoop Scheffer said after those talks on June 15 that the Taliban and Al-Qaeda were trying to increase civilian casualties in Afghanistan because they wanted to undermine support for foreign troops in the country, as well as popular support for Afghan President Hamid Karzai's government.
"If coordination improves, the Afghan government can decide which places should be bombarded and which area should not come under attack." -- General Zahir Azimi, Afghan Defense Ministry spokesman
"They are, of course, trying to [ensure] that we are losing the hearts and minds of the Afghan people," de Hoop Scheffer said. "We are still supported by a large majority [of Afghans]. I find that out every time I get there. But, of course, [the insurgents] are waging this indirect war against us by exploiting civilians -- by using them as human shields."
De Hoop Scheffer said NATO forces followed their rules of engagement before launching attacks. That means ensuring that suspected militants are carrying weapons before they are targeted and that every effort is made to prevent deaths and injuries among civilians.
"The International Security Assistance Force -- NATO-led ISAF -- does not indiscriminately kill people," he said. "That's what the Taliban does. Roadside bombs. Suicide bombers. They make, by far, the most innocent civilian casualties in Afghanistan."
Afghanistan experienced its deadliest ever suicide bomb attack on June 17, just hours after de Hoop Scheffer made those remarks.
In Kabul today, authorities are investigating that attack against a police bus in the Afghan capital that killed 35 people and injured more than 50 others.
Afghan police said they arrested a suspect who filmed the suicide attack and who allegedly has ties with Taliban militants.
Kabul police investigator Alishah Paktiawal said the suspect was carrying photographs of slain Taliban commander Mullah Dadullah on his mobile phone. Paktiawal said the suspect also had "documents" that link him to the suicide attack.
Meanwhile, there are conflicting claims about the cause of a fire in Afghanistan's Oruzgan Province that reportedly killed seven Afghan women and children on June 17.
A local police commander in Oruzgan's Chora district claimed the fire was the result of a NATO air strike on a building.
A Taliban spokesman, Qari Yosuf Ahmadi, told RFE/RL's Radio Free Afghanistan in a telephone conversation that the deaths were the result of a NATO air strike.
But NATO officials said they had no information about any attacks by alliance aircraft in that location that day.
An official from the Afghan national government's security force in Chora district, Tora Abdullah, told Radio Free Afghanistan that the fire was the result of a Taliban-led attack.
(Contributors to this report include RFE/RL's Radio Free Afghanistan correspondents Qadir Habib and Mustafa Sarwar in Prague and Radio Free Afghanistan's Kabul bureau)
The Afghan Insurgency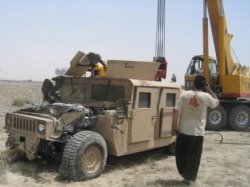 A U.S. military vehicle damaged by insurgents near Kandahar (epa)
HOMEGROWN OR IMPORTED? As attacks against Afghan and international forces continue relentlessly, RFE/RL hosted a briefing to discuss the nature of the Afghan insurgency. The discussion featured Marvin Weinbaum, professor emeritus of political science at the University of Illinois at Urbana-Champaign, and RFE/RL Afghanistan analyst Amin Tarzi.
LISTEN
Listen to the entire briefing (about 83 minutes):
Real Audio
Windows Media
ARCHIVE
RFE/RL's
coverage of Afghanistan
.
SUBSCRIBE
For weekly news and analysis on Afghanistan by e-mail,
subscribe to "RFE/RL Afghanistan Report."