The ministry said Anthony Brenton was asked to explain media reports that said the man was of Russian origin and had been deported.
It also asked why British authorities -- if they had any evidence of a plot -- failed to alert Russian authorities "or even tell them the person's name."
British police said the man was arrested in London on June 21 and was handed over to immigration officials two days later.
Berezovsky, a fierce critic of Russian President Vladimir Putin, told reporters in London that British police had warned him about an assassination plot and advised him to leave the country temporarily.
Berezovsky said he left Britain on June 16 for a week, until police advised him the plot had been foiled.
The incident comes amid high tensions between Britain and Russia over Russia's refusal to extradite the chief suspect in the radiation poisoning of former Russian security officer Aleksandr Litvinenko.
Berezovsky was among the first to accuse the Kremlin of ordering Litvinenko's murder.
Britain has repeatedly refused Russia's request to extradite Berezovsky to face fraud charges in Russia.

Aleksandr Litvinenko: A Timeline
Aleksandr Litvinenko: A Timeline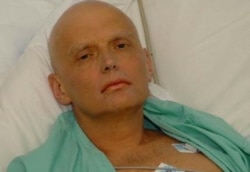 CLOAK AND DAGGER: A timeline of a murder case that unraveled after Andrei Litvinenko, a former Russian security officer and vocal Kremlin critic, dies on November 23, 2006, of poisoning by radioactive isotope polonium-210.
In a deathbed letter, Litvinenko blames Russian President Vladimir Putin for his death -- a claim Putin condemns.
Investigators center on two meetings in London that Litvinenko had described -- one in which he met with two Russians for tea in London, and another in which he met with a third Russian at a sushi bar.
Six months later, British prosecutors announce they have enough evidence to charge a Russian citizen -- one of the men who had met with Litvinenko for tea -- with the murder ...more...
MORE: Coverage in Russian from RFE/RL's Russian Service.
ARCHIVE
RFE/RL's English-language coverage of
Russia
.
SUBSCRIBE
For news and analysis on Russia by e-mail,
subscribe to "RFE/RL Russia Report."