Today's talks follow a first round on August 10.
The hostage takers earlier shot dead two of their male captives.
They are demanding that the Afghan government release militant prisoners -- a request the Afghan government has repeatedly rejected.
The South Korean hostages -- most of whom are women -- were part of a church-backed volunteer mission to bring aid and medical care to a facility in southern Afghanistan.
They were snatched from a bus in Ghazni Province on July 19.
Initial demands included Taliban prisoner releases and Seoul's withdrawal of its troops from Afghanistan, which comprise about 200 engineers and medical staff but no combat soldiers.
South Korea recently reiterated its scheduled plans to withdraw those troops by the end of the year.
The Afghan Insurgency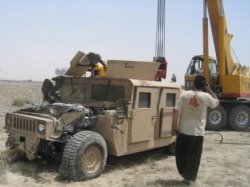 A U.S. military vehicle damaged by insurgents near Kandahar (epa)
HOMEGROWN OR IMPORTED? As attacks against Afghan and international forces continue relentlessly, RFE/RL hosted a briefing to discuss the nature of the Afghan insurgency. The discussion featured Marvin Weinbaum, professor emeritus of political science at the University of Illinois at Urbana-Champaign, and RFE/RL Afghanistan analyst Amin Tarzi.
LISTEN
Listen to the entire briefing (about 83 minutes):
Real Audio
Windows Media
ARCHIVE
RFE/RL's
coverage of Afghanistan
.
SUBSCRIBE
For weekly news and analysis on Afghanistan by e-mail,
subscribe to "RFE/RL Afghanistan Report."