Taliban Reportedly Proposes Swap for Female Hostages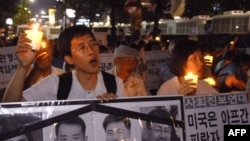 South Koreans rally in Seoul to demand U.S. help in negotiations for the hostages' release (AFP) August 7, 2007 -- A South Korean report says Taliban militants holding 21 South Korean aid workers in Afghanistan have proposed exchanging some female hostages for imprisoned female supporters of the insurgents.
South Korea's Yonhap news agency says the Taliban made the proposal in a phone call today.
The militants seized 16 female and seven male volunteers on July 19, and have killed two male captives. The militants are demanding the release of jailed insurgents in exchange for the lives of the surviving 21 Koreans.
Afghan and South Korean officials are attempting to negotiate with the Taliban, but the Afghan government has ruled out a prisoner exchange.
Today's report follows Taliban claims that two of the female hostages are ill. But South Korean Foreign Minister Song Min-soon denied that they are experiencing any serious health problems.
On August 6, some 300 Afghans demonstrated in the city of Kandahar, calling for the hostages' release and condemning the militants for holding women as hostages.
(AFP)

RFE/RL Afghanistan Report

SUBSCRIBE For regular news and analysis on Afghanistan by e-mail,
subscribe to "RFE/RL Afghanistan Report."