The two sides met south of Kabul.
The Taliban again demanded that the Afghan government release eight Taliban prisoners.
Ghazni Governor Merajuddin Pattan told Radio Free Afghanistan that he knows of no immediate plans by the Afghan government to release any Taliban prisoners.
A Red Cross official said it is not immediately clear if there will be a new round of discussions on August 17.
The hostage takers abducted 23 South Korean Christian volunteer aid workers on July 19 from a chartered passenger bus as it was passing through Ghazni Province. The foreigners were returning to Kabul from Kandahar, where they had been providing medical aid to Afghan civilians.
The Taliban has executed two men from the group.
The militants on August 13 released two women hostages who had fallen critically ill, saying they were freed unconditionally as a "goodwill gesture."
That release came after numerous complaints in Afghan media by ordinary Afghans who said the Taliban is violating the Koran by using women as hostages.
Sixteen of the 19 remaining hostages are women.
(with agency reports)
The Afghan Insurgency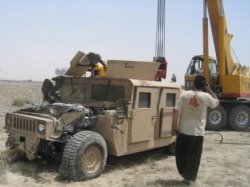 A U.S. military vehicle damaged by insurgents near Kandahar (epa)
HOMEGROWN OR IMPORTED? As attacks against Afghan and international forces continue relentlessly, RFE/RL hosted a briefing to discuss the nature of the Afghan insurgency. The discussion featured Marvin Weinbaum, professor emeritus of political science at the University of Illinois at Urbana-Champaign, and RFE/RL Afghanistan analyst Amin Tarzi.
LISTEN
Listen to the entire briefing (about 83 minutes):
Real Audio
Windows Media
ARCHIVE
RFE/RL's
coverage of Afghanistan
.
SUBSCRIBE
For weekly news and analysis on Afghanistan by e-mail,
subscribe to "RFE/RL Afghanistan Report."