U.S. Team Eyes Improved Ties On Turkmenistan Visit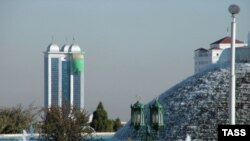 The Turkmen capital, Ashgabat (file) (ITAR-TASS) August 23, 2007 (RFE/RL) -- A U.S. congressional delegation has arrived in Turkmenistan to assess prospects for increased ties.
The team is made up of staff members of the Committee on Foreign Affairs of the U.S. House of Representatives.
A Western diplomat who asked not to be named told RFE/RL's Turkmen Service that the delegation is to meet with Turkmen government officials to assess "new ways forward" in bilateral relations.
A delegation from the U.S. Commission on International Religious Freedom is also in Turkmenistan, meeting with officials and religious representatives.