Speaking on Russia's state ORT television channel on September 11, Colonel General Aleksandr Rukshin, the deputy chief of Russia's armed forces, said the bomb had been successfully tested at a military site.
"The results of the trial of the newly created aviation bomb have shown that its effectiveness and potential are comparable to a nuclear bomb," Rukshin said. "At the same time I particularly want to emphasize that this bomb does not cause ecological or environmental pollution, in contrast to a nuclear bomb."
Television pictures showed the bomb dropping by parachute from a Tu-160 supersonic bomber and flattening what appeared to be a four-story block. The report said the bomb, technically known as a thermobaric device, contained 7 tons of explosives.
Old Technology, But On Larger Scale
Pavel Felgenhauer, who writes a column on defense issues in the "Novaya gazeta" newspaper, explained how the so-far unnamed device works.
"It's a bomb filled with flammable liquid," Felgenhauer says. "The bomb drops, breaks up, the liquid is released, it swiftly evaporates, and then there is a delayed igniter that ignites the mixture of air and flammable liquid. There's a terrific shock wave after such an explosion and very high temperatures. The problem is, of course, that they are much heavier than nuclear weapons."
The extra weight, Felgenhauer says, makes them harder to transport than nuclear bombs. According to the report, the designers have used nanotechnology to increase the power of the bomb. But Felgenhauer says there is nothing new here.
"Such bombs, of course, have already been used for 40 years," he says. "They were first invented by the Americans and used in Vietnam, then used very much by the Russian military in Afghanistan. They were used in Chechnya. Basically, such bombs are used against troops in bunkers, because the exploding fuel-air mixture can also penetrate trenches and bunkers."
Military On Parade
The testing of the weapon comes at a time when Russia is attempting to reassert itself on the international stage. In recent months, President Vladimir Putin has revived the Soviet practice of sending heavy bombers out on long-range flights.
"I think that this is part of a sustained campaign just to remind people that Russia is a powerful military force, " says Robert Hewson, editor of "Jane's Air-Launched Weapons." "This is not a majorly significant military weapon, because it's a free-fall bomb that has to be dropped by bomber, so it's not going to be used in any advanced conflict. But it is clearly destructive and it's attention-getting, and that's what its most important purpose is."
Already strained relations between Russia and the United States soured further recently over Washington's plans to deploy parts of an antimissile system in Central Europe. Moscow is opposed to the U.S. plans, saying they are a threat to Russia's security. Washington says the shield is meant to defend against potential attacks from states such as Iran.
Conventional Forces In Europe
Conventional Forces In Europe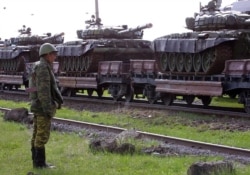 A Russian soldier watching Russian armaments leave Georgia in 2006 (epa)


AGREEMENTS ON CONVENTIONAL FORCES IN EUROPE. The CFE treaty is an arms-control agreement originally negotiated between NATO and the Warsaw Pact as a guarantor of European security in Europe in the waning days of the Cold War.

The original CFE Treaty took 10 years to negotiate, was signed by 30 states ** in November 1990, and came in to force in 1992. Its aim: to reduce stockpiles of conventional armaments between the Atlantic Ocean and the Ural mountains.
The blocs limited themselves to:
20,000 tanks
20,000 artillery pieces
30,000 armored combat vehicles
6,800 combat aircraft
2,000 attack helicopters

The CFE-1A, a 1992 addendum, has resulted in the withdrawal of more than 700,000 troops from Europe since 2001 and the destruction of 50,000 pieces of military equipment by 1995.
The CFE-II, negotiated in Istanbul in 1999, reflected the new, post-Soviet landscape by setting arms limits for individual countries, rather than zones. The agreement aided NATO's expansion efforts by allowing signatory states to allow foreign forces on their soil.
NATO states have not ratified the CFE-II due to concerns over Russia's failure to comply with commitments it made during the negotiations. Under the Istanbul Accords, Russia pledged to set a timetable for closing its remaining military bases in Georgia and to completely withdraw its forces from Moldova.
The CFE-II will come into force once ratified by all 30 CFE signatories. Thus far only Belarus, Kazakhstan, Russia, and Ukraine have ratified the CFE-II.
In ratifying the agreement in June 2004, Russia called on the signatories not to delay in ratifying the document. Russia expressed concern that Lithuania, Estonia, and Latvia, as nonmembers of the treaty, could possibly harbor NATO troops near its western border.
(** Armenia, Azerbaijan, Belarus, Belgium, Bulgaria, Canada, Czech Republic, Denmark, France, Georgia, Germany, Greece, Hungary, Iceland, Italy, Kazakhstan, Luxembourg, Moldova, the Netherlands, Norway, Poland, Portugal, Romania, Russia, Slovak Republic, Spain, Turkey, Ukraine, the United Kingdom, and the United States. )