An Iranian interpreter who was traveling with the Spaniards also died.
Meanwhile, two Italian soldiers who were kidnapped in western Afghanistan have been freed in a NATO-led military operation.
The Italian news agency ANSA reports that five kidnappers were killed in the operation. The two soldiers were injured in the operation, one of them seriously, according to reports.
The Italians, with their Afghan driver and translator, went missing on September 22 after entering a police checkpoint in Herat Province.
The fate of the Afghans is not clear.
The Associated Press reports that unidentified gunmen opened fire on a vehicle carrying police and government employees in the remote northeast of the country, killing 12.
The police chief in northern Badakhshan Province, General Agha Noor Kemtuz, said the men were traveling from Badakhshan to Kabul when the attack occurred on September 23 and were not armed.
(compiled from agency reports)
The Afghan Insurgency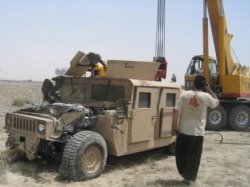 A U.S. military vehicle damaged by insurgents near Kandahar (epa)
HOMEGROWN OR IMPORTED? As attacks against Afghan and international forces continue relentlessly, RFE/RL hosted a briefing to discuss the nature of the Afghan insurgency. The discussion featured Marvin Weinbaum, professor emeritus of political science at the University of Illinois at Urbana-Champaign, and RFE/RL Afghanistan analyst Amin Tarzi.
LISTEN
Listen to the entire briefing (about 83 minutes):
Real Audio
Windows Media
ARCHIVE
RFE/RL's
coverage of Afghanistan
.
SUBSCRIBE
For weekly news and analysis on Afghanistan by e-mail,
subscribe to "RFE/RL Afghanistan Report."