Okruashvili, who has served as interior and defense minister and was a close ally of the president, also accused Saakashvili of engaging in activities against the state.
Okruashvili said he had personally received an order from Saakashvili to eliminate individuals, but that he never agreed to carry out the orders.
"[Certain] processes have recently taken place in the country -- fascist tendencies and steps taken by the government against the Georgian state have made us all openly display our position to the public," Okruashvili said.
"Saakashvili's governing style has exceeded all limits, [and] has made it an everyday thing to have immorality, injustice, [and] oppression of human beings," he added. "Daily repressions, destruction of houses and churches, robbery of citizens, and murder -- and I want to underline murder -- have become routine practices of our government."
Okruashvili, who has recently returned to Georgia after a period spent abroad, was speaking at a press conference today where he announced the launch of his opposition party, the Movement for a United Georgia. The party includes several parliamentary deputies and some formerly well-known journalists.
Attacking Saakashvili's Competence
Okruashvili, who was known as a hawk in the administration, accused Saakashvili of establishing authoritarian rule, creating a climate of fear, injustice, and promoting his family clan.
According to Okruashvili, Saakashvili has an "inner hatred" toward the Georgian Orthodox Church, and wants to lessen its influence.
Okruashvili also said that at one point, he had "almost returned one of [Georgia's] lost territories [to Georgia]," but because of "Saakashvili's incapability," he had to "back off." In 2004, Okruashvili launched an abortive attack in Georgia's breakaway province of South Ossetia.
President Saakashvili is currently in New York attending the UN General Assembly, but representatives of the government have dismissed Okruashvili's statements.
Giga Bokeria, a key deputy from the ruling National Movement party, held a press conference in response to Okruashvili's statements, calling them "nonsense, hysteria, and groundless slander," and compared them to the statements of Russian politicians.
Reaction To Corruption Arrests
In an interview with RFE/RL's Georgian Service today, Bokeria said he was "saddened" by what he'd heard. "I admit, it [Okruashvili's press conference] exceeded expectations. It is very regrettable, and I feel very sorry when a former member of your team experiences such a degradation, and betrays everything -- himself, his faith, his country," he said.
Bokeria added that Okruashvili was probably "irritated" because many of his allies had been arrested in the past on smuggling and corruption charges.
Earlier today, Saakashvili's spokesman and parliamentary secretary, Dimitri Kitoshvili, was arrested on extortion charges. According to Deputy Prosecutor-General Nika Gvaramia, in 2006, when Kitoshvili chaired the National Regulatory Commission for Communications, he "extorted" 2.6 percent of shares in the Geocell mobile-phone operator from a former lawmaker and businessman.
Representatives of the political opposition have claimed that Kitoshvili's arrest is connected to Okruashvili's return, as the two men have been closely connected in the past through a joint legal practice.
And Georgian police arrested a former regional governor, Mikheil Kareli, on September 23 on charges of bribery and illegal business activities. Kareli, who was a close associate of Okruashvili, was recently dismissed as the governor of Shida Kartli.
Human Rights In Georgia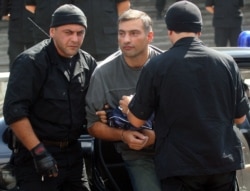 Georgian police arresting a suspect in September 2006 (InterPressNews)


NOT A ROSY PICTURE: Ana Dolidze, former president of the Georgian Young Lawyers Association and a visiting scholar at Columbia University, told an RFE/RL briefing that many obstacles remain before Georgia's courts and law enforcement organs will be able to ensure human rights.
LISTEN
Listen to the entire briefing (about 60 minutes):

Real Audio
Windows Media
RELATED ARTICLES
'Architect Of German Lustration' Discusses Georgian Archive
U.S. Official Discusses Rights Issues In Russia, Caucasus
Freedom House Sees Further Democracy Decline
Women's Rights Project Employs Film As Advocacy Tool
SUBSCRIBE
For a regular review of civil-society developments throughout RFE/RL's broadcast region,
subscribe to "RFE/RL (Un)Civil Societies."