Russian human rights campaigners have accused authorities of cracking down on independent media and nongovernmental organizations.
Valeriya Novodvorskaya, leader of the Democratic Union Party, said reforms in Russia had been brought to a halt and that the country "needs dissidents again." Organizers said the demonstration planned for later today in Moscow would be a gathering of dozens of people who will just stand silently for one minute with their hats off like dissidents did in the 1970s. Similar actions were planned in other towns as well.
The head of the Moscow Helsinki Group, Luydmila Alekseeva, and For Human Rights Movement leader Lev Ponomarev are traveling to the Bashkir city of Blagoveshchensk today, where hundreds of people were detained and many injured during a special police operation one year ago.
(Interfax/Ekho Moskvy/AP/BBC)
Campaign Advertising Sparks Controversy
Campaign Advertising Sparks Controversy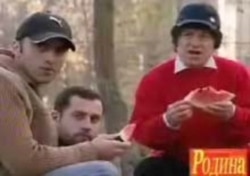 A Moscow court has banned Rodina (Motherland), a nationalist opposition party, from running in the December 4 elections to Moscow's City Duma. Judges ruled that the party's campaign advertisement incited racial hatred. The decision has incensed Rodina's leader, who has accused the authorities of trying to get rid of a powerful opposition force
....(more)
See also: