(Listen to the complete interview (three minutes): Real Audio Windows Media)
RFE/RL: What does Tajikistan and improvements in Tajikistan mean for you?
Soros: I have a foundation in Tajikistan to promote open society -- the Open Society Foundation of Tajikistan, which has been very active in helping economic and political development in Tajikistan. And I'm a strong supporter of that foundation. I think that they can play a very positive role in Tajikistan and I'll be happy to discuss what we can do to make these national development goals attainable.
RFE/RL: What can you tell us about what is going on now? Is it good? Is it positive?
Soros:
I think that to have this plan is positive and I think that to make the transition from a piece of paper to reality is the challenge. But it could be a good start. Just having a plan is already a step forward and I think a lot can be done. One of the issues I will urge is greater cooperation between government and civil society because development really involves the entire society and not just the government.
RFE/RL: When Tajik President Imomali Rakhmonov was here [at the United Nations on 16 September], you had a meeing with him.
Soros: Yes.
RFE/RL: What questions did you discuss with him?
Soros: Well, we had a very frank discussion because, you know, he has been told by [Russian] President [Vladimir] Putin that the Soros foundations are working to bring about color revolutions. And I tried to explain to him that this is a mistaken interpretation, that we are not at all in favor of revolutions. Because revolutions are a sign of failure. It means there is a lack of good institutions and the population is fed up. Having a revolution does not make up for that democratic deficit. Making up for it takes a long time and it requires constructive work and not revolutions. And I think that I managed to convince him that it is a false interpretation that we have any intention to have a revolution, either in Tajikistan or any other country.

Soros's Remarks To The UN
Soros's Remarks To The UN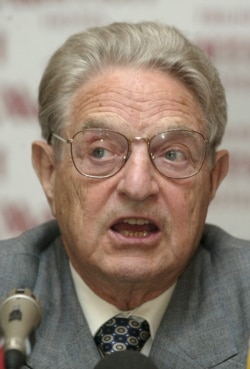 On 13 December, philanthropist GEORGE SOROS addressed a special plenary session of the UN General Assembly devoted to the implementation of the UN's Millennium Plan for Tajikstan and described the work that his foundation is doing in that country.
Listen to Soros's complete presentation (six minutes).
Real Audio Windows Media