The U.S. is reported to have carried out the 13 January strike although the United States has not officially acknowledged this.
The protestors marched from two mosques after Friday prayers to the center of the city chanting "Death to America!" and "Jihad!"
Pakistani Information Minister Sheikh Rashid Ahmed, speaking on 19 January, said it appeared likely several Al-Qaeda members were killed in the raid: "We have information and reports that some Al-Qaeda foreigner terrorists [were] killed in the Bajaur air strike."
The apparent main target, Al-Qaeda deputy leader Ayman al- Zawahri, was not reported hurt.
(AP/Reuters)
Who Is Ayman al-Zawahri?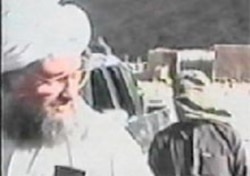 AYMAN AL-ZAWAHRI is regarded as Al-Qaeda's No. 2 authority. Although al-Zawahri is lesser known than Osama bin Laden, some observers say the deputy is just as powerful as the chief....(more)
See also:
Is Al-Qaeda Letter Sign Of Rift, Or Opportunity For Bush?